Inherent Visions: Neddy at Cornish Exhibition | 2019

Works by Aramis O. Hamer, Inye Wokoma, Jjite Agbro, Romson Regarde Bustillo, Julia Freeman, Tatiana Garmendia, Emily Gherard, & Amanda Knowles
Cornish Playhouse Lobby, Seattle, WA
Installation View
,
Inherent Visions (2019).
Photography: Winifred Westergard
It is through imagination and memory, or the ability of artists to create visions beyond our temporal, physical, and historical limitations, that the disturbances of time, life, and borders seemingly slow down. As a curator, a collaborator and caretaker of artists, artworks, and spaces, I have a responsibility of care in regards to these visions.
The 2019 Neddy at Cornish Exhibition titled Inherent Visions celebrates and recognizes the creative practices of eight artists living and working in the Puget Sound Region. This award honors the value of artistic and cultural labors within and across communities. I am delighted to be serving as the 2019 Neddy at Cornish Curator and to work with this year's finalists of the Neddy at Cornish Award. In harmony with the legacy of the award's namesake, painter and teacher Ned Benkhe, the finalists exhibit a spirit of care and advocacy. This tenderness extends not only from their application of material within their work, but also to their extensive community practices as teachers, curators, organizers, among the other countless roles artists play.
The exhibition Inherent Visions gives a glimpse towards contemporary creative practices in the region. The work ranges from oils on canvas, to innovative combinations in mixed media, to social practices that invite the audience to consider our relationships to the work and the communities that surround us. The title of the exhibition calls attention to the role of the artist as both essential in terms of memory and history, but also transformative in terms of imagination and community building. In this regard, the exhibition connects the audience to both a particular time and place.
Through the works of this exhibition, imagination and memory connects imagined futures and memorable pasts to our present moment.
Lugar del Trabajo | 2019

Works by
Angélica Maria Millán Lozano
+
Camilo Godoy
Jacob Lawrence Gallery at the University of Washington, Seattle
Installation View
,
Lugar del Trabajo (2019)
[TEXTO EN ESPAÑOL]En 1993, tenía dos años cuando explotó un carro bomba en la ciudad de Bogotá matando a 15 personas aunque no me acuerdo del evento. La vibración de la explosión pasó y marcó el cuerpo colectivo en silencio y permanentemente. La duración del conflicto armado de Colombia que incluye sus consecuencias sociales y culturales marcan la memoria como un derecho individual y una construcción comunitaria. La memoria como un derecho humano fundamental dice que todos merecemos recordar. Aunque las obras de los artistas Angélica Maria Millán Lozano y Camilo Godoy no muestran la violencia contra el cuerpo por el conflicto armado, el cuerpo es un foco para los artistas. Los artistas lo representan en sus obras a través de sombras, telas, emisiones, sangre, y la ausencia del cuerpo. Sus obras usan la memoria informalmente en intercambios familiares y formalmente en archivos, fotografías, y noticieros.
La práctica de Lozano se involucra con la memoria al nivel de la familia recuperando y respetando el esfuerzo invisible de las generaciones del pasado. En la obra
Rastros de Oficio
(2019), el artista calcó la sombra de su madre cuando ella barría y lavaba los platos y transformó las sombras a formas acrílicas y de vinilo. En esa manera, el artista construye un doble retrato de su madre: la realidad corporal de su cuerpo y el trabajo casero del día. Para Godoy, el enfrentamiento con sistemas de la verdad, que incluyen el noticiero y el archivo, compone coreografías que nos ayudan a mover suavemente a través del peso de la historia. En la serie,
Everybody knows that they are guilty:
, (2013-), el artista falsificó las firmas de presidentes estadounidenses durante su vida en un papel tamaño de carta con sangre humana. Godoy trabaja directamente con la memoria de la violencia cometida por la oficina presidencial notando eventos históricos en el título de la obra y con la presencia de la sangre.
Con el encuentro de sombras y firmas falsificadas nuestra memoria colectiva se detiene por un momento y cristaliza la violencia del olvido.
[ENGLISH TEXT]
In 1993, I was two years old when a car bomb shook the city of Bogotá killing 15 people, but I have no memory of it. The vibrations of the explosion passed through the collective body marking it silently and permanently. The longevity of the Colombian armed conflict and its social and cultural consequences frame memory as both an individual right and a collective construction. Memory as a fundamental human right establishes the idea that each of us deserves to remember. While the works of the artists Angélica Millán Lozano and Camilo Godoy do not explicitly depict the bodily violence of the armed conflict, the body remains a primary focus for the artists through its representation in the work as shadows, textiles broadcasts, blood, and the body's absence. Their work continues to rely on memory passed informally through familial relationships and formally through archives, photographs, and the media.
Lozano's practice engages with memory at the familial and social level recovering and honoring invisible, generational labors. In the installation Rastros de Oficio (2019), the artist traced her mother's shadow while she swept the floor and washed dishes transforming the shadows to acrylic and vinyl hangings. In doing so, the artist creates a double portrait in an effort to document both the corporeal reality of her mother and the domestic labor she performs daily. For Godoy, the confrontation with frameworks of truth, including the news broadcast and the archive, creates choreographies allowing us to slow down and move through the heavy weight of history. In the series Everybody knows that they are guilty:, (2013-ongoing), the artist forges the signature of all U.S. presidents since his birth in 1989 on an 8.5 x 11-inch paper using human blood as ink. Godoy engages directly with the memory of violence perpetrated by the presidential office by calling out events in the work's title and through the literal and symbolic presence of blood.
It is through our encounter with shadows and forged signatures that our collective memory slows down and crystallizes the violence of forgetting.
Angélica Maria Millán Lozano
.
Rastros de Oficio
, 2019
acrylic, vinyl, plastic, and metal chains
Angélica Maria Millán Lozano
.
Decadencia .01
, 2016
Burnt, dyed, and bleached cotton
Camilo Godoy
.
Barack Obama (2009-2017: Wall St. Bailout, Deportations, Drones, etc.)
from the series
Everybody knows that they are guilty:
, 2013-ongoing
Human blood on paper
Angélica Maria Millán Lozano.
Deshilada
, 2018
Sequin and polyester
Camilo Godoy.
Diplomacy (Touching a declassified CIA report from 1955 about organizations of petroleum workers in Mexico and a film still from a 1955 broadcast by the Canadian Broadcasting Company of the 1949 choreography The Moor's Pavane by José Limón)
, 2019
Newspaper stick, inkjet print on newsprint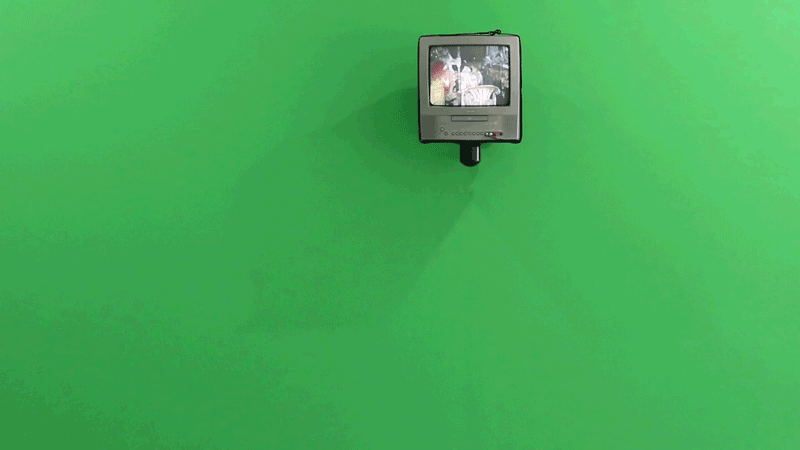 Camilo Godoy
.
Noticiero
, 2002/2017
Video, sound, CRT television set, wall mount, chroma green screen wall, 10-minute loop
STUDIOB1 | 2014-15

From 2014 through 2015, I curated a series of one-night exhibitions out of a studio ("StudioB1") at the Tashiro Kaplan Artists Studios building in Pioneer Square, Seattle. Below is a list and images from those exhibitions:
2015
Marisol Ricardo: Trabajo.
studioB1, Tashiro Kaplan Artist Studios, Seattle
Alexandra Maricich: Corked.
studioB1, Tashiro Kaplan Artist Studios, Seattle

Anissa Amalia: Sentiment
. studioB1, Tashiro Kaplan Artist Studios, Seattle
Juan Franco: Lovers' Affair.
studioB1, Tashiro Kaplan Artist Studios, Seattle
Derrick Lee: Sensitive Surfaces.
studioB1, Tashiro Kaplan Artist Studios, Seattle
Modern Recollections: OK Dolor.
studioB1, Tashiro Kaplan Artist Studios, Seattle
2014
Chelsea Rodino: In Bits Yours Truly. studioB1, Seattle
Diego Suarez & Juan Franco: Translations.
studioB1, Seattle