Angélica Maria Millán Lozano + Camilo Godoy: Lugar del Trabajo at the Jacob Lawrence Gallery at the University of Washington, Seattle
Reception: Thursday, June 27, 2019, 5–8pm
June 28 – July 20, 2019
Installation View
,
Lugar del Trabajo (2019)
[TEXTO EN ESPAÑOL]En 1993, tenía dos años cuando explotó un carro bomba en la ciudad de Bogotá matando a 15 personas aunque no me acuerdo del evento. La vibración de la explosión pasó y marcó el cuerpo colectivo en silencio y permanentemente. La permanencia del conflicto armado de Colombia lo cual incluye sus consecuencias sociales y culturales marcan la memoria como un derecho individual y una construcción comunitaria. La memoria como un derecho humano fundamental dice que todos merecemos recordar. Aunque las obras de los artistas Angélica Maria Millán Lozano y Camilo Godoy no muestran la violencia contra el cuerpo por el conflicto armado, el cuerpo es un foco para los artistas. Los artistas lo representan en sus obras a través de sombras, telas, emisiones, sangre, y la misma ausencia del cuerpo. Sus obras usan la memoria informalmente en intercambios familiares y formalmente en archivos, fotografías, y noticieros.
La práctica de Lozano se involucra con la memoria al nivel de la familia recuperando y respetando el esfuerzo invisible de las generaciones del pasado. En la obra
Rastros de Oficio
(2019), el artista calcó la sombra de su madre cuando ella barría y lavabá los platos y transformó las sombras a formas acrílicas y de vinilo. En esa manera, el artista construye un doble retrato de su madre: la realidad corporal de su cuerpo y el trabajo casero del día. Para Godoy, el enfrentamiento con sistemas de la verdad, que incluyen el noticiero y el archivo, compone coreografías que nos ayudan a mover suavemente a través del peso de la historia. En la serie,
Everybody knows that they are guilty:
, (2013-), el artista falsificó las firmas de presidentes estadounidenses durante su vida en un papel tamaño de carta con sangre humana. Godoy trabaja directamente con la memoria de la violencia cometida por la oficina presidencial notando eventos históricos en el título de la obra y con la presencia de la sangre.
Con el encuentro de sombras y firmas falsificadas nuestra memoria colectiva se detiene por un momento y cristaliza la violencia del olvido.
[ENGLISH TEXT]
In 1993, I was two years old when a car bomb shook the city of Bogotá killing 15 people, but I have no memory of it. The vibrations of the explosion passed through the collective body marking it silently and permanently. The longevity of the Colombian armed conflict and its social and cultural consequences frame memory as both an individual right and a collective construction. Memory as a fundamental human right establishes the idea that each of us deserves to remember. While the works of the artists Angélica Millán Lozano and Camilo Godoy do not explicitly depict the bodily violence of the armed conflict, the body remains a primary focus for the artists through its representation in the work as shadows, textiles broadcasts, blood, and the body's absence. Their work continues to rely on memory passed informally through familial relationships and formally through archives, photographs, and the media.
Lozano's practice engages with memory at the familial and social level recovering and honoring invisible, generational labors. In the installation Rastros de Oficio (2019), the artist traced her mother's shadow while she swept the floor and washed dishes transforming the shadows to acrylic and vinyl hangings. In doing so, the artist creates a double portrait in an effort to document both the corporeal reality of her mother and the domestic labor she performs daily. For Godoy, the confrontation with frameworks of truth, including the news broadcast and the archive, creates choreographies allowing us to slow down and move through the heavy weight of history. In the series Everybody knows that they are guilty:, (2013-ongoing), the artist forges the signature of all U.S. presidents since his birth in 1989 on an 8.5 x 11-inch paper using human blood as ink. Godoy engages directly with the memory of violence perpetrated by the presidential office by calling out events in the work's title and through the literal and symbolic presence of blood.
It is through our encounter with shadows and forged signatures that our collective memory slows down and crystallizes the violence of forgetting.
Angélica Maria Millán Lozano
.
Rastros de Oficio
, 2019
acrylic, vinyl, plastic, and metal chains
Angélica Maria Millán Lozano
.
Decadencia .01
, 2016
Burnt, dyed, and bleached cotton
Camilo Godoy
.
Barack Obama (2009-2017: Wall St. Bailout, Deportations, Drones, etc.)
from the series
Everybody knows that they are guilty:
, 2013-ongoing
Human blood on paper
Angélica Maria Millán Lozano.
Deshilada
, 2018
Sequin and polyester
Camilo Godoy.
Diplomacy (Touching a declassified CIA report from 1955 about organizations of petroleum workers in Mexico and a film still from a 1955 broadcast by the Canadian Broadcasting Company of the 1949 choreography The Moor's Pavane by José Limón)
, 2019
Newspaper stick, inkjet print on newsprint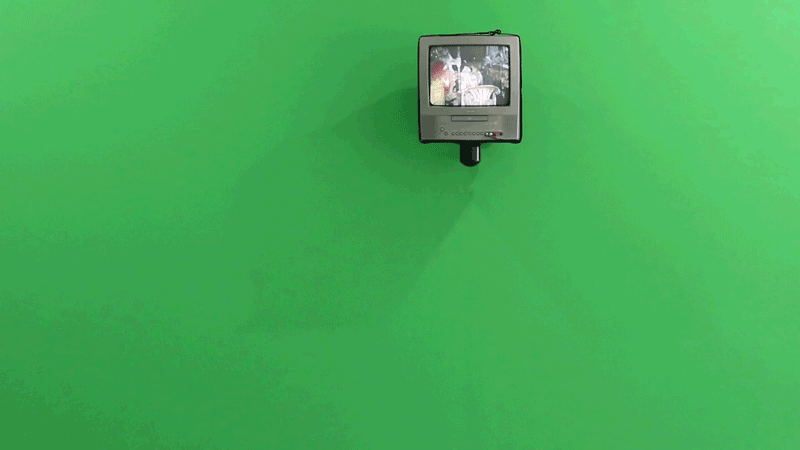 Camilo Godoy
.
Noticiero
, 2002/2017
Video, sound, CRT television set, wall mount, chroma green screen wall, 10-minute loop